What can I say... as it was announced that this 15th edition would also be the LAST of the lovely ProgFarm-Festival, there was this little dispute happening among the ProgDork Squad (Birdman, DeHuiz et moi, this time around) whether we'd be joining in on a genuine party, or perhaps some kind of a 'funeral'-meeting this time around...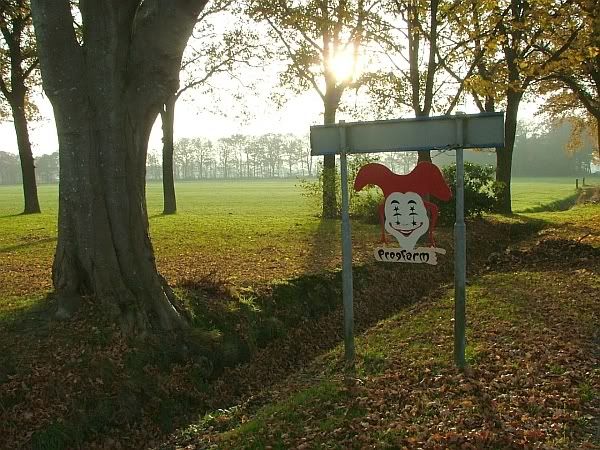 The ProgFarm sign, indicating the entrance to ProgDork Heaven at "Kampeerboerderij 'De Harmsdobbe', Bakkefâen, Fryslân - aka 'The Middle of Nowhere'...


The former edition last year - read up about it over here - was a genuine BLAST. So the three of us decided to make it at least as much of a !PARTY! this time around, and you might well conclude that the organization (the lovely folks of Flamborough Head) in combination with all the participating bands, and, oops - US! - truly managed to do so.

As usual, some kind of a genuine oddyssey to reach Bakkefâen (aka Nirwana Nirgendwo), a 2 1/2 hour journey by public transport, but that wouldn't ever let our spirits down. As usual, the warm welcome by all kind of friendly folks from the ProgRock scene immediately made up for that, most notably the friendly guys from Leap Day and my long-time friend Martin, former bass player of 5BridgeS. Nice to see you around again, dear folks!

When we finally reached Bakkefâen, a nice, international line-up of so-called 'obscure' bands awaited there to perform for us - this time around, aside from organizers Flamborough Head themselves, Harvest from Barcelona, Spain, Toxic Smile from Germany, and quite an invasion of Swedes, namely Introitus and Moon Safari.

Sooo.... here we go! The reviews!


First to hit the ProgFarm stage were Harvest - an interesting combination of a progster band from Barcelona, Spain, hooked up together with a Dutch singer, ms. Monique van der Kolk (the Internet truly is a delightful thing at times...).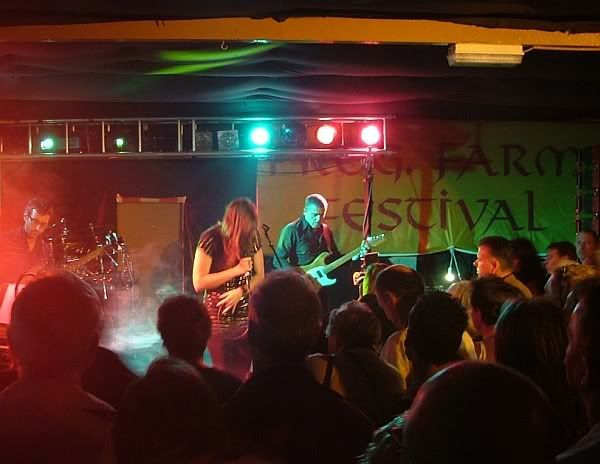 Harvest on the ProgFarm stage.


Obviously inspired by Marillion's latter day neo-prog style, Harvest left a decent impression, but I cannot help but say that during the course of their 45-minute gig, the music became a bit all too 'samey' - which unfortunately is quite often the case with female-fronted bands nowadays. In other words - the band was in obvious need of some *Spanish Peppers*-injection quite often, which they showed themselves perfectly capable of during the instrumental "Moon Quake", which really got the crowd moving. I don't like to say it, but imho, the band came across a lot better during their instrumental pieces than during those with their singer... a notion not only shared by me, but by quite a lot of other folks around as well, and which I think the band should take into serious account, should they indeed aspire to take their music to a higher level. That said, a very reasonable show!


During all 14 former editions of ProgFarm, organizers Flamborough Head were programmed as the third band to hit the stage so it was quite a surprise to us all to see them get it on secondly this time around.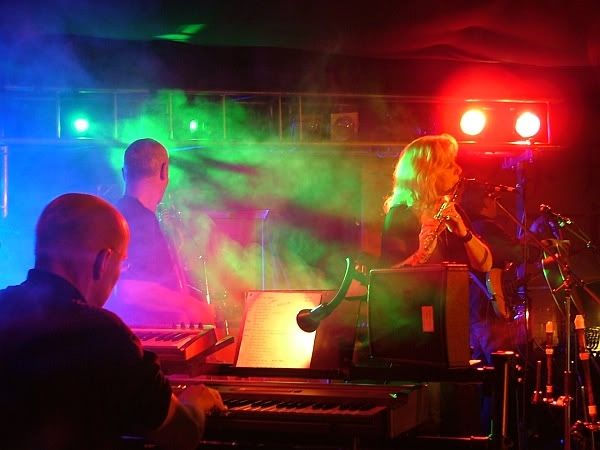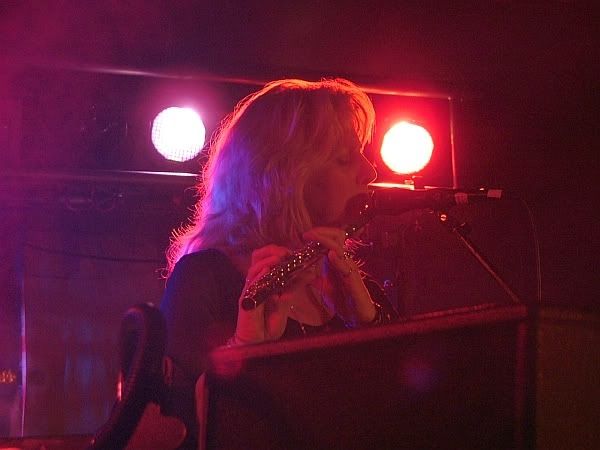 But *what* a gig it turned out to be!
If there's one thing I truly respect, it's a band having the guts to perform a majority of yet unknown new material during a gig - not exactly 'the easy way' to win over a crowd, eh? Yet that was exactly what these guys & gal did this very evening, the majority of their gig's material played consisting of yet unreleased songs from an upcoming new album. That takes some bloody *guts* indeed, but WOW! it went down with the crowd fantastically well. Even if the ProgFarm Festival was coming to an end over here, it was very obvious that FH doesn't yet think about quitting at all. That new album is going to be a mighty good one indeed.
However the fans of the 'older' material weren't let down either, as the band also performed a great version of the lovely 20-minute epic from their latest album "Looking For John Maddock". Great gig indeed - don't you guys ever think of quitting, eh, at least not in the upcoming decade or so!


Germany's Toxic Smile were forced to cancel their gig last year due to a wrist injury of their guitar player, and as such, they - of course - got their spot on the bill of this year's edition.
From the first notes onwards it was obvious that the crowd was heading forward to some 'heavier' version of progrock with these guys, which I daresay wasn't unwelcome at all at this stage of the festival - a rather good decision to put these guys on as third in line, as the two next bands aren't exactly 'heavy' either.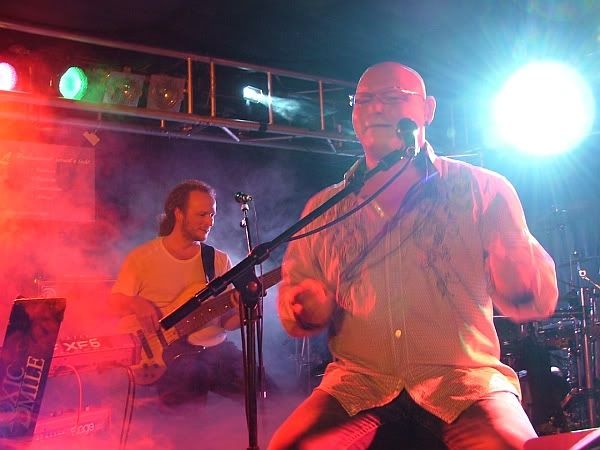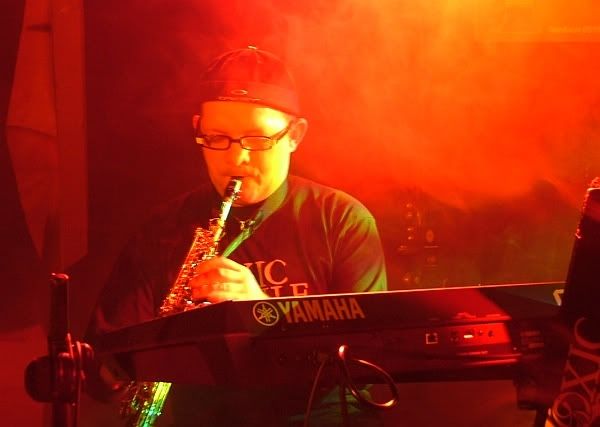 Heavy ProgRock, in this case rather Symphony X than Dream Theater-like (and regular readers of this blog know might already know very well which of the two I appreciate more) stands-or-falls with a decent singer, and let it be known, their vocalist Larry B. truly has-what-it-takes with his high pitched, clear voice. The guy may well rather look like an accountant from your local banking office than a genuine PROGMETAL singer, he showed himself a great, funny frontman as well, joking about their (indeed rather good-looking) bass player being the band's 'Frauen-Schwarm' and the like. Not to forget to mention, his fantastic voice as well.
Very enjoyable gig with very enjoyable music indeed, carried out by top-notch instrumentalists.


Pretty difficult to write any a sensible kind of 'review' on the Swedish Invasion that followed hereafter, as I spent most of the time when Introitus and Moon Safari were performing on stage, in the tent next to the venue, having a chat and a drink (and then some more - :O) - so I'll refrain from trying to write anything sensible about them except that what I heard from afar sounded very good indeed, especially MS's excellent job on their vocal harmonies - fantastic as always.
Yeah I admit it, I was pretty spent by then, but continued partying away for a very long time afterwards, at which of course most of the band members joined in, including the Moon Safari-guys giving yet another post-match impromptu acoustic concert in the tent which went on for hours, with about everyone joining in with singing and cheering along. FANTASTIC!


Goodbye, you lovely festival - warm welcome, great bands, excellent (NOT too loud!) sound, cold barn with cold sleeping bag, atrocious public transport Journey to/fro the Centre of Nowhere, beer, nasi, wine, smokes, more wine, even more wine again, 'broodje kroket', beer, a smoke outside again, fantastic atmosphere, beer again (because the wine was finished), lovely people, more beer, great bands, drunk singing during the afterparty, uhm... etcetera, until, deep at night-time, it was finally OVAH. :sad: :sad: :sad:





An little acoustic after-party performance by Moon Safari in the tent, somewhere around 03:30 AM, LOL!
Consider it a final tribute to ProgFarm.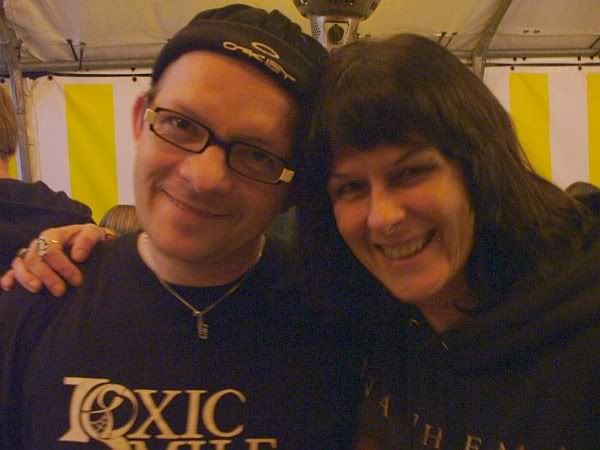 Toxic Smile's keyboard and clarinet-player Marek Arnold and me...



A MASSIVE "THANK YOU!!!" to all who participated and made the Festival such a great place to be the past 15 years, most of all of course Flamborough Head!

And once again, for the liner notes - "Those Who Truly Care - Were THERE!" ~wink~