Wowee! I finally managed to get a new review up on the same day of returning home. Doesn't happen that often...
November 6th saw the
Squad
(Birdman, DeHuiz et moi) embargue on a gruesome enterprise to reach the rough inlands of far-away Fryslân (for Us Dorks-without-a-driving-license, it is!) - to visit the, ehm, "village" of Bakkeveen (you might also call it 'Nirgendwo', 'Nergenshoven', or 'In The Middle of Nowhere').
And for whatever other reason you'd want to go there, other than to attend the delightful, cosy
ProgFarm
-Festival?
It was my third visit to this edition of the festival (and as it was the 14th edition already, I now bang-my-head because of having missed out on the first 11 of them!), an indeed lovely initiative by Frisians
Flamborough Head
- as they say themselves,
"It's a bit sad that there are so many fine prog bands around who are not able to gig a lot
[I'd like be as bold myself and correct this to: *barely ever*]
. Back in 1997, we started our festival to give lesser known prog bands a chance to introduce themselves to an interested audience. Unfortunately there still is a need for this type of festival and we are happy that are able to organize ProgFarm so we can make our contribution to a more lively prog scene."
!!!AMEN TO THAT!!!
And boy, they do a fantastic job at indeed selecting those fine obscure bands, who, for whatever reason, don't seem to get the attention they truly deserve - this 14th edition of
ProgFarm
would be no exception to that rule, even more...
one
of the bands actually managed to steal-my-heart right there, on the spot. More specifically,
a certain band
hailing from
Ukraine
, some 2500 kms away from Bakkeveen!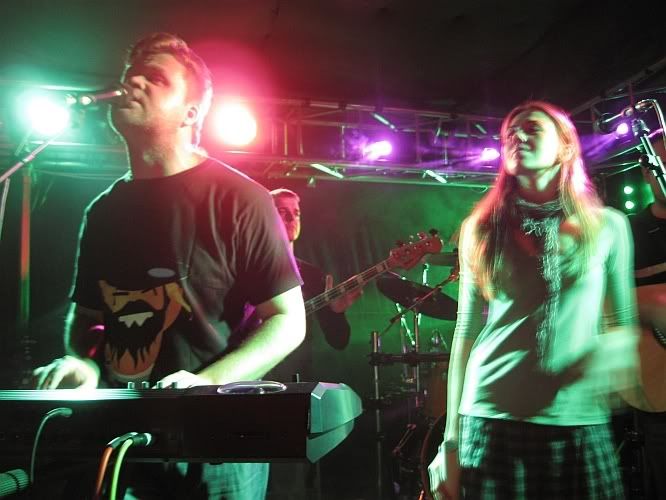 Antony Kalugin and his lovely singer Viktoriia on stage in Bakkeveen. They were bloody awesome!
(
Collapse
)
(
Collapse
)
(
Collapse
)
(
Collapse
)
ProgFarm
-be sure,
"We'll Be Back!"
next year!
And just a slight additional note on
my earlier rant
on the subject of so-called 'fans' not giving it much effort to actually *show up* at progrock concerts, whenever 'unknown bands' are featured -
"Those Who Truly Care - Are THERE!"
~wink~
PS: had quite a hard time finding
Antony
's
MySpace
(only 53 'friends'??? WTF!), but it's well worth checking out - some amazing stuff over there!